Event: Ask Us Anything
When should I make the move?
What do you do for fun?
What's it really like to live at Parkway Village?
Do you wish you moved sooner?
How does life here compare to life in your previous home?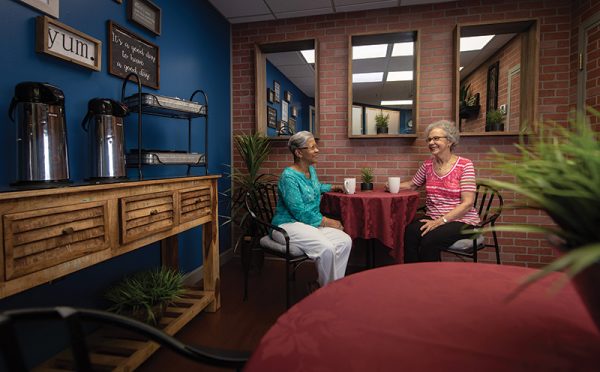 These are just some of the questions residents can answer for you when you join them as they share their unfiltered experience of life at our retirement community. You'll learn:
Why they chose to move to Parkway Village
All about our active lifestyle, including dining, wellness, activities and more
Valuable tips for making your move
Enjoy light refreshments in a safe and socially distanced way.
Space is limited, RSVP today
Date: 3/23
Location: Parkway Village 14300 Chenal Parkway Little Rock, AR 72211
Event RSVP
Please fill out the below form to RSVP for an event. We'll be in touch soon.
Parkway Village has a great staff, lots of good food, plenty of fun activities, and comfortable living. I am so glad I moved here while I am still young enough to enjoy the freedom and security that Parkway Village offers.

Before our father came to the Shell Center, his health condition was rapidly deteriorating. . . Over the past four years his condition stabilized, all of his needs are met on a daily basis, and we know he feels safe and cared for. We are very pleased with the care that the Shell Center has given our father.

Meeting with the administrator, the director of nursing (a nurse practitioner), and one of the two registered nurses on staff; observing a practical nurse making her rounds; and watching the certified nursing aides caring for their patients in a surprisingly immaculate environment were enough to give me a sense of relief that our journey for skilled care had ended. We had come home.

With so many decisions to make in retirement living, it can seem overwhelming, but moving to Parkway Village was one of the best decisions I have ever made. I have so many wonderful friends and neighbors and now that I don't have to worry about keeping up my home, it has given me so much more time to do the things I really enjoy.

I chose to come here only two months after losing my husband. I needed the security of feeling safe while being alone for the first time in my life. Learning home and yard maintenance were provided gave me peace. Most important, though, is having so many caring, gracious, and fun people to mingle with. That was therapeutic and helped me through the grieving process. Parkway Village continues to meet physical, emotional, social, and spiritual needs in my life!

Moving to Parkway Village more than 15 years ago was one of the best decisions I have ever made. I no longer have responsibilities that home ownership requires. I, along with my family, am so very thankful that I am living my retirement years in such a wonderful and secure place as Parkway. Parkway Village is the place to retire!